Multi-Antenna GPR - Initial Tests
MALÅ Imaging Radar Array (MIRA) is the most modern and technically advanced multi-antenna GPR system and was tested by VIAS and its partners at the archaeological sites Carnuntum and Birka. It is at the moment the only available multi-antenna system that integrates data acquisition, precise positioning and efficent data processing.

The tested MALÅ MIRA system is using 16 antennas (400 Mhz) configured in an array, used simultaneously to gather data in real time in a spatial resolution of 8 x 8 cm up to 1.5 hectare per day. The native software products are able to process the high amount of daily data in a few hours to produce migrated depth slices.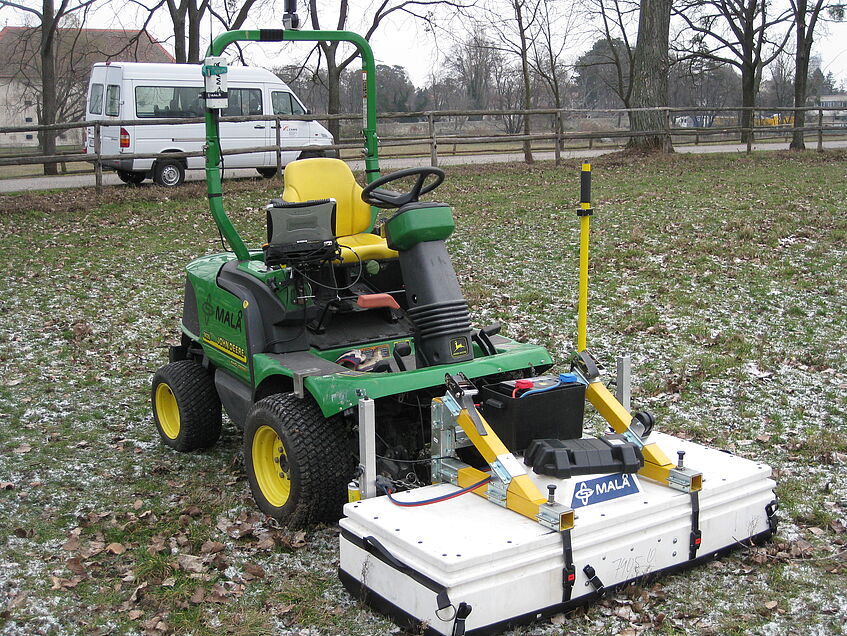 The tests at Carnuntum demonstrated that
very efficient high-definition (8x8 cm) GPR surveys for archaeological prospection are possible,
the MIRA system and integrated positioning solutions are reliable and field-worthy for large scale applications
the 400 MHz antenna array results in data of good vertical and horizontal resolution
Systems such as the MIRA will permit the efficient mapping and imaging of large-scale archaeological sites in 3D and thereby considerably contribute to the protection of endangered cultural heritage.
The MALÅ Imaging Radar Array (MIRA) is at the moment the most complete and efficient solution for high resolution, large scale GPR mapping of all the systems we currently have tested.
[Translate to Englisch:]
The Roman forum at Carnuntum
[Translate to Englisch:]